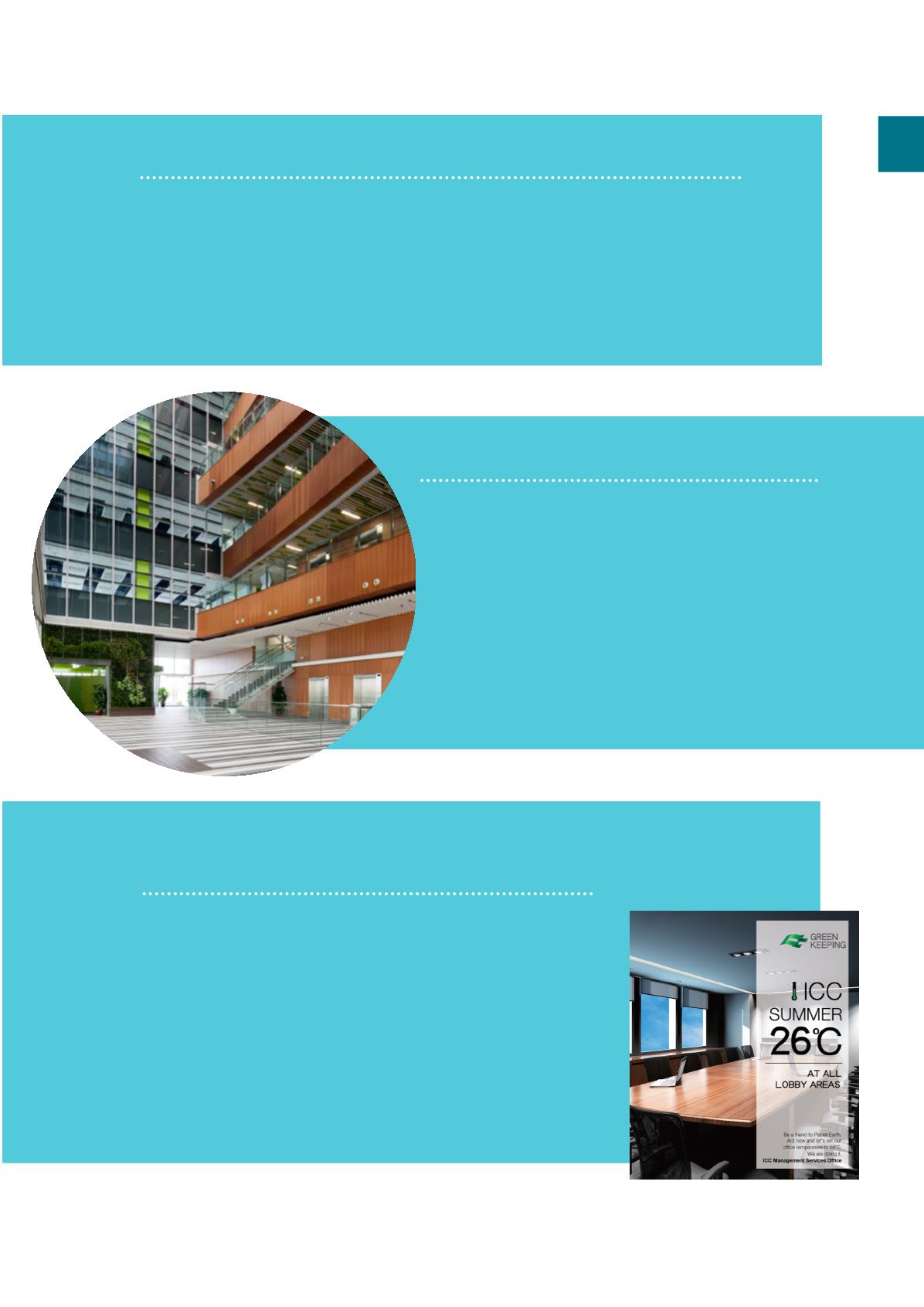 CH1
HKGBC Green Tenancy Driver for Office Buildings
Henderson Land
has taken the initiative in sustainability. Building Management Systems (BMS)
are installed in various Group properties, including AIA Tower and Manulife Financial Centre.
The Systems monitor and control operations of the buildings' electrical and mechanical facilities,
such as the air-conditioning, lighting, electrical, lifts and escalators and fire services systems.
Viable energy management measures can then be identified to lower energy consumption and
operating costs. In all of its commercial properties, it has encouraged retail shops and office
tenants to make a concerted effort in sustainability.
Henderson Land Development Company Limited
Hong Kong Science and Technology Parks Corporation
a long standing commitment to the environment, signified
by its outreach to Science Park occupants on energy and
waste reduction, organic gardening, green living and
more. Science Park Phase 3 marks a new paradigm for
the sustainable office, where occupants benefit from
hybrid / natural ventilation with push-button window
control, and LED lighting to 300 lux. 'Pay-for-use' billing
of air conditioning, and energy data sharing via the Green
Lease, are key to controlling Phase 3's carbon-footprint and
operating costs for the Corporation and occupants' alike.
Hong Kong Science & Technology Parks
ICC
is developed by Sun Hung Kai Properties and managed by its
wholly owned subsidiary Kai Shing Management Services Limited.
The management team of ICC has set up comprehensive energy and
waste management systems to continuously reduce the carbon footprint
of the building. ICC achieved the highest BEAM rating in 2011 and
also became the first building in Hong Kong to receive the ISO 50001
Energy Management Systems certification accredited by the Hong Kong
Quality Assurance Agency. Through proactive guidance and support,
tenants are encouraged to take part in ICC's many green initiatives.
Over half of the office areas have achieved green office certification,
thus enhancing the indoor environmental quality for occupants.
International Commerce Centre,
Sun Hung Kai Properties Limited